Know your body
better

. DO MORE OF WHAT YOU LOVE.

With a knowledge of your DNA, you and your doctor can make more informed decisions on gastrointestinal medications
WHAT IS A
MY

DNA MEDICATION TEST?

A myDNA medication test is a PGx test that helps identify which medications are likely to be most suited to an individual. The test results are presented in a report for the healthcare professional to consider when deciding on the choice of medication for their patient.
What you can
learn

in this report GASTROINTESTINAL MEDICATIONS
Learn how your body responds to certain medications prescribed for your gastrointestinal system including medications for acid reflux and nausea GENES & MEDICATION
Discover what your genetic make up means for how your body processes certain medications RECOMMENDATIONS
Prescribing recommendations for your doctor, based on your individual results. Completed reports are delivered to your doctor or pharmacist so that they can review the results before providing you with a copy LIFETIME RELEVANCE
Your genes remain the same your entire life and your results can be used to optimise both current and future prescribing considerations
You will receive your myDNA kit in the post. This contains everything you need to provide us with a cheek swab, you just need to send it back to us. We'll then analyse your sample, provide your nominated doctor(s) with your reports and give you secure access to our findings on the Explore myDNA Portal after your consultation.
Please note that we'll deliver your report directly to your nominated healthcare professional. You will have ongoing access to your report after you have had a consultation with your doctor or pharmacist.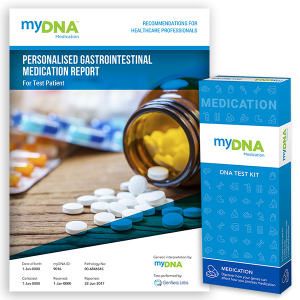 myDNA will interpret and provide a personalised report for the genetic myDNA test requested by you or your healthcare professional only. Your reports and genetic data are your property. Any results generated remain strictly confidential and will not be shared with any third parties without your consent. Privacy and data security protocols are fundamental to the myDNA technology platform.
DNA ANALYSIS
There is currently no community laboratory that processes DNA for genomics in New Zealand. All cheek swab samples are analysed in an Australian laboratory.
myDNA Life is an Organisational Member of the Global Alliance for Genomics and Health.
Swab, register, send
It couldn't be simpler. Swab the inside of your cheek and register your DNA sample online.
Post it to us. Then our laboratory will analyse your sample.
We'll let you know when your report is ready. You will have ongoing access to your results on the Explore myDNA portal.