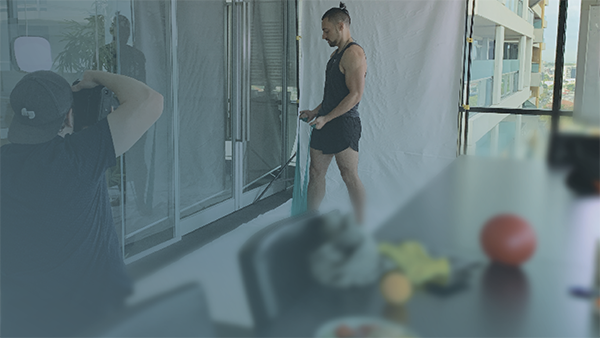 We tracked five customers on their eight-week journey to becoming their best selves by following their DNA-led meal & fitness plans. They all had different goals, and different stories, and we couldn't be prouder of their success. Well done, guys!
Keran's goal was to optimise her wellbeing as she heads towards 50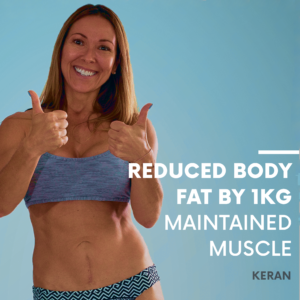 "I was in great shape beforehand and now I feel even better… I can easily continue to stick with my plan because I know I'm going to have optimal health eating like this."
A seasoned yoga teacher, Keran has always looked after her body and looked spectacular for her age. She was interested to see what she could learn from her DNA insights that she didn't already know about herself. Her aim was to use these learnings to improve her body shape.
Keran was adopted as a child and doesn't have information about her genetic heritage, so there was an added appeal about delving into her DNA.
Prior to the myDNA challenge Keran had eaten a restrictive diet to maintain her physique. Her myDNA meal plan recommended a macronutrient breakdown similar to the way she already ate. The advantage for Keran was discovering a wider range of options, providing her with more nutrients in her diet and in turn more energy.
In an eight-week period of following myDNA recommendations for meals, Keran was able to drop one kilo in body fat and gain muscle mass.
Leighton's goal was to use his DNA insights to improve fitness and tone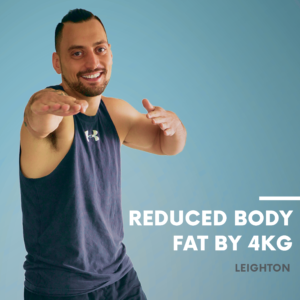 Leighton Kaiwai, 31
"My results after 8 weeks have blown out my expectations. I've lost a heap of body fat and reduced my body fat percentage. I could not be happier. I'm definitely going to do another 8 weeks."
A higher protein diet was recommended for Leighton and a training program to take advantage of his power potential.
During the 8 weeks Leighton ramped up the frequency of his exercise in line with his plan and we kept a close eye to ensure he was getting enough protein.
Leighton found that the process was straightforward: "It was super easy. From the initial report that you get, to the nutrition plan and the fitness plan, everything is laid out so it's very easy to follow.
I've done a lot of training, a lot of diet plans and this is the first one to be this effective and this efficient."
He threw himself into the process and lost a whopping 11 kilos of body weight including 4 kilos of fat during an eight-week period, improving his overall fitness score.
"Honestly, I think myDNA has helped me become the best version of myself I've ever been."
Wisam's goal was to improve soccer performance and reduce injury risk

Wisam Francis, 32
"Before I was going to the gym, doing more than an hour of workouts lifting heavy weights but not getting any results. But with the myDNA program I now go to the gym 30 – 45 minutes and I get better results with it. So fantastic!"
Wisam's fitness insights revealed he has an increased risk of injury. He was keen to use his DNA insights to protect against future injury and perform better on the pitch.
Wisam explains "The workout was given to me based on my results showed what work well for me; how to workout, and what recovery time I need."
While his insights revealed that Wisam has naturally high stamina, his fitness plan called for him to include strength training too. At the time, Wisam was already a regular at the gym but with more specific recommendations he was able to feel the right muscles firing.
In 8 weeks, Wisam lost 1 kilo of fat and gained upper body muscle tone. The biggest benefit is on the pitch when he plays soccer:
"Now that I've increased my upper body strength I feel more confident on the soccer pitch when I'm challenging others to get the ball."
And the habits that Wisam has adopted are ones he plans to stick with for the longer term:
"These 8 weeks have kick-started my future lifestyle. I'm going to keep eating healthy, doing workouts, getting more results and more benefit from it."
Kelly's goal was to overcome her fear of carbs

Kelly Wisdom, 34
"In my meal plan I was recommended to increase carbs. I'm not going to lie, I felt nervous about it, but I feel more confident knowing that it's my genetic makeup and it's suited to my body."
Kelly's recommended myDNA meal plan included 60% carbs which she was nervous to try. Kelly is a serial dieter and has tried the popular keto diet. She discovered it wasn't a great fit for her when she passed out during a long run.
Kelly decided to put her trust in scientific recommendations based on her DNA.
"In my meal plan I was recommended to increase my carbs. I'm not going to lie, I feel nervous about it, but I feel more confident knowing that it's my genetic makeup and that its suited to my body."
We worked with Kelly to build up her carbs gradually and to explain the type of complex carbs recommended in her meal plan.
She discovered that by following her meal plan she felt fuller for longer and cut out unnecessary snacking.
At the end of 8 weeks, Kelly's weight was unchanged, but she had reduced body fat and increased muscle mass. Best of all, she reduced the amount of visceral fat – the nasty fat around her organs. Remarkably, this series of small changes taken together are estimated to add a year to her life.
Braden's goal was to cut out sugary snacks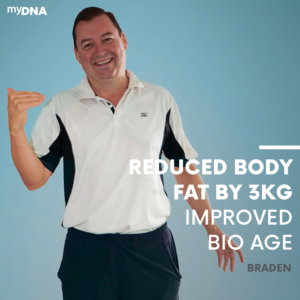 Braden Betley, 48
"I loved the science behind it. You know that there's good research to show that this is going to work and it's going to be best for me."
Braden is an active guy who enjoys team sports, but before the challenge he would rely on a sugary drink or snack when he felt like a pump of energy.
Following recommendations that were backed by science was all important for Braden.
"I loved the science behind it. You know that there's good research to show that this is going to work and it's going to be best for me."
When Braden started to eat according to his DNA he found he was able to break unhealthy habits:
"Because of the higher protein in the diet, I don't feel that hunger or craving that drives you to just grab something sugary."
By cutting down on sugary drinks and implementing his meal and fitness plans Braden was able to lose 5 kilos, including 3 kilos of body fat. An amazing result for Braden!
"myDNA has helped me to reduce visceral fat, which is really important for my health and future."