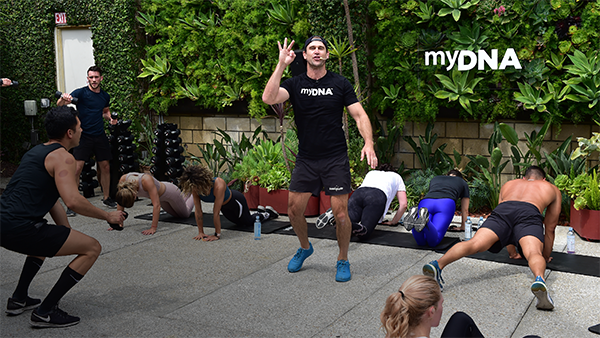 On 2 May, 2019 myDNA and a bunch of our mates took to SmogShoppe (what was once a traditional Smog Check business) in Los Angeles to officially launch our Nutrition & Fitness and Vitamins test kits to the American market.
The event was hosted by our old friend, Celebrity Trainer and Founder of Training Mate, Luke Milton. To kick things off, Luke took our 65 attendees through a rigorous interval training workout that was tailored to their DNA insights – those who had a Power profile focused on exercises that required short bursts of strength, while those with an Endurance profile tended to opt for lower weights and push themselves for longer.
After everyone had cooled down, it was time for lunch. Registered Dietician and Founder of Plant Based Juniors, Whitney English, worked with our caterers to prepare a lunch menu that had options for each of the different nutrition plans recommended to our customers, again based on their DNA results.
Following lunch Luke and Whitney were joined by our CEO, Lior Rauchberger, for an open panel hosted by PopSugar Fitness Producer, Genevieve Farrell.
Thanks so much to everyone who came to the event or helped make it possible. We're super-excited about helping Americans understand their unique selves through DNA testing, and have been overwhelmed with the interest and support we've received so far. Our tests deliver personalized insights and recommendations to turn your DNA insights into action, so you'll know exactly what it takes to become your best self.
This slideshow requires JavaScript.