Your Personalized Skin Care Plan,
Powered

by DNA
Discover how your genes can influence Wrinkles, Skin Texture, Age Spots & Sun Damage.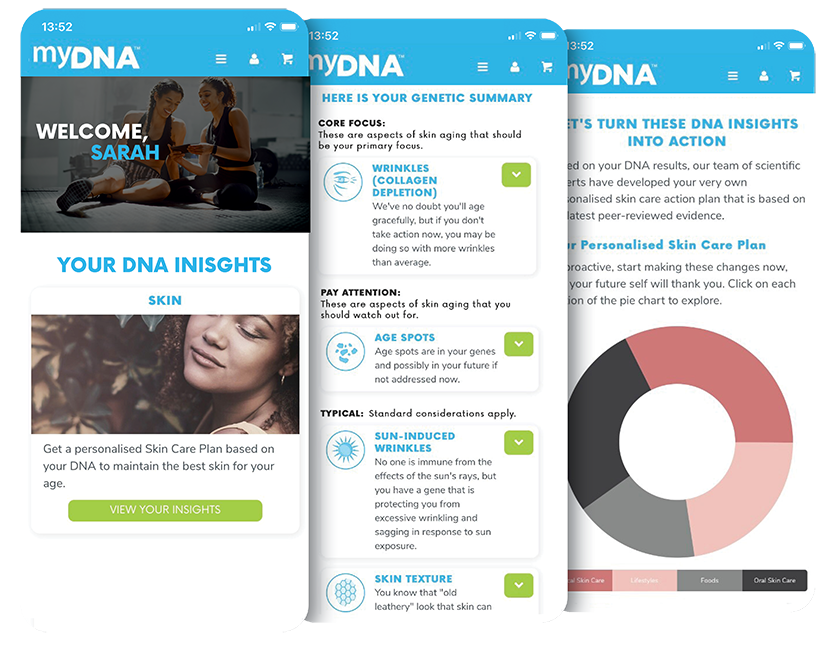 5 Genetic Markers reveal hidden secrets
about how your skin will age

Wrinkles
Premature collagen breakdown can cause loss of firmness and elasticity, which inevitably results in wrinkles. Find out if your body breaks down collagen fibres in your skin too quickly and what preventative options you can take to ward off the most obvious sign of aging.

Skin Texture
Is your skin prone to becoming coarse, leathery or yellow-looking (signs of solar elastosis)? Your DNA will provide this insight, and what you can do to improve your skin texture.

Age Spots
If you have the genes that lead to an accumulation of melanin in the skin dermis, you can assume that age spots are on the horizon for you. We'll reveal how to keep age spots at bay so that you don't look older than you are.
Sun Damage
Your genes can tell us how likely you are to battle premature aging (wrinkles, sagging) in response to sun exposure, arming you with the tools to combat it and ensure better looking skin in the future.
60% of skin-aging is influenced by genetics
While the other 40% can be attributed by external lifestyle factors.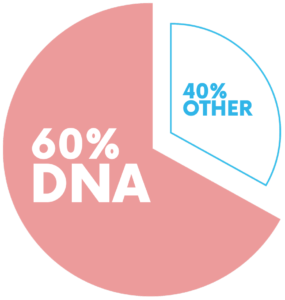 There are strong links between the DNA we are born with and common signs of skin aging.
With myDNA Skin Aging Defense you'll learn about your skin's unique predisposition to aging too fast, as well as the preventative actions you can take.
Take Preventative Action Now
Use the science of DNA to get results
Don't waste your time and money on fads.
Our clinical team of scientific experts will give you a list of ingredients to seek out when choosing the right topical skin care products for your unique skin.
Eat your way to better skin
Nutrition plays a major role in how healthy your skin is and improves its condition from the inside. If you don't have a balanced diet, your skin could be suffering so you may need a little help with an oral skin care regime
How to unlock the secrets of your DNA
It couldn't be simpler. Purchase one of our DNA tests, swab the inside of your cheek, register and send your DNA sample. We'll then send you everything you need to turn your DNA insights into action. Take a more personalized approach to your skin care
60% of skin aging is influenced by the genes you've inherited
Understand your skin's predisposition to aging too fast
Simple at-home-cheek-swab revealing genetic insights to power your plans – wrinkles, skin texture, age spots and sun damage
We detail targeted protective measures to help improve your daily skin care to keep your skin looking its best for your age
Personalized Skin Care Plan outlining Topical Skin Care, Lifestyle, Nutritional and Oral Skin Care recommendations to help turn your DNA insights into action
Ongoing self-discovery and support with regular new DNA Insights