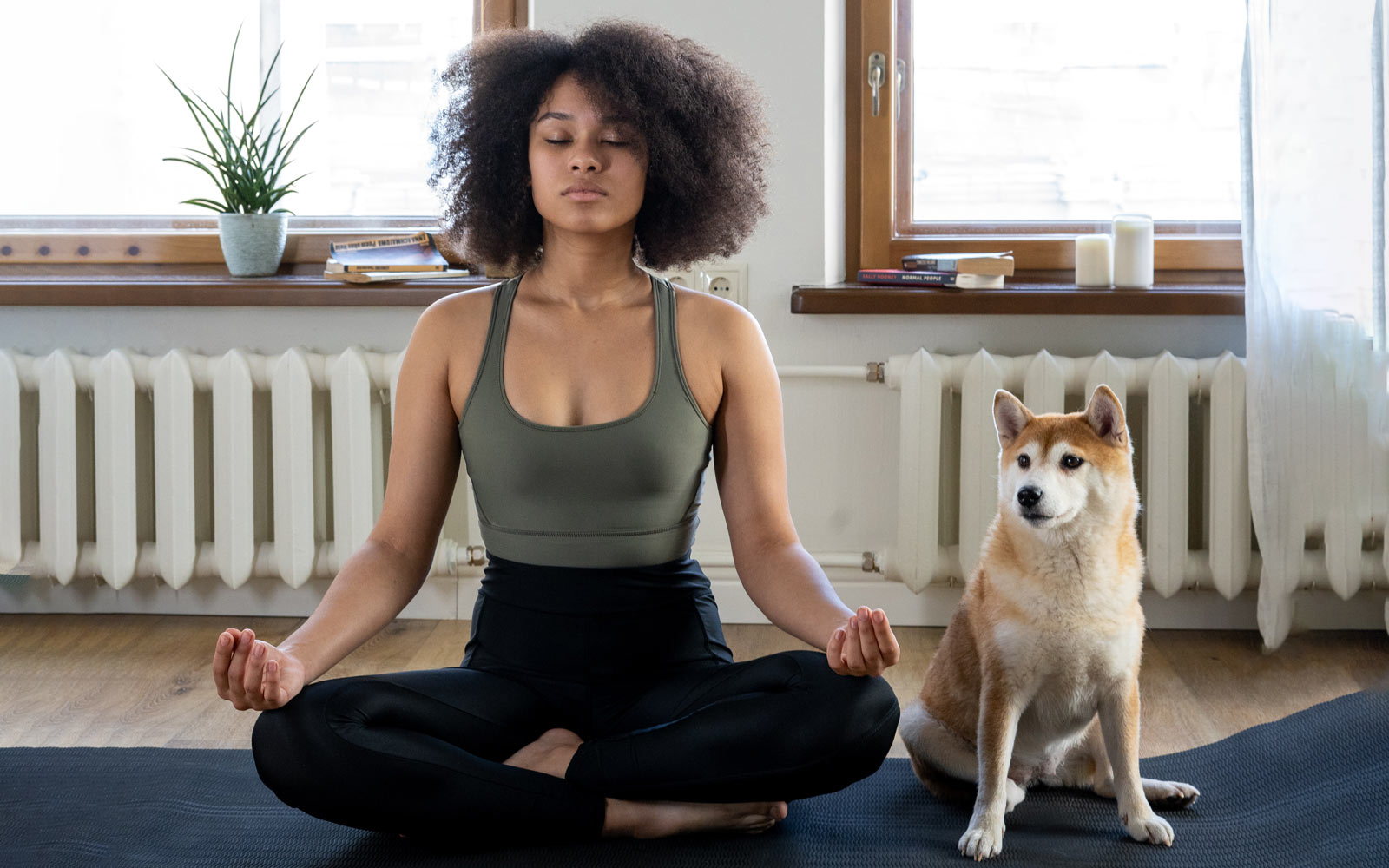 Feel like you struggle in lockdown? Here's how you can get through increased restrictions with confidence
Unfortunately, the number of Coronavirus cases have been steadily rising again across parts of Australia. Some of us have had to head back into lockdown while others are facing increased restrictions including a 5km radius travel limit.
If you feel like you didn't manage to stay on top of your health during the first lockdown period or if you're finding it more difficult to motivate yourself in this second wave, we hope the following tips can help things go as smoothly as possible as we remain hopeful that things can go back to normal soon.
Find a lockdown routine to keep you motivated
The best way to get through lockdown is to try and maintain a sense of normalcy – as much as is possible anyway.
It may not be top of mind, but this routine should start with your sleep by ensuring you have a regular night and morning routine that results in ample quality sleep every night. A healthy sleep schedule is linked with everything from your mental health to weight management, but things like stress, caffeine, alcohol and a poor diet can also impact your sleep quality. There are also many reports of the pandemic's impact on our sleep quality. A study conducted in COVID-19 epicentres found that the general public has developed poor sleep hygiene habits as a result of the virus, as well as an increase in stress-induced insomnia.
(This includes keeping in shape!)
It's also very easy to let your fitness slip when spending so much time at home. Without gyms and classes running, and with very little breaking up your work and home lives, it can be difficult to find the motivation to get out and get active.
You'll see a lot of tips to schedule your exercise into your calendar, as you would a work meeting. This will work a treat, but only if you remain committed and allow enough time to warm up and warm down either side of your meeting as well. You could also try to break up your day by replicating some of the time you would have spent getting to and from work with a walk to the coffee shop, or building up a quick sweat with the kids.
Whatever you choose, once you've completed a few days in a row you'll be surprised how easy it is to maintain the routine. And if you're looking for some more unusual ways to exercise in lockdown, we have a list of alternative workouts for you to try. Just remember, if you're heading outside to exercise be sure to follow all guidelines. If you're in Victoria, this means a maximum of one hour outdoors a day.
If you're doing your part by trying to stay indoors, then myDNA's Personalised Nutrition & Fitness test includes personalised workouts you can do from the comfort and safety of your home. We've also shared a suite of our favourite home workouts for free.
The two essential lockdown P's: Preparation and Planning
If we were going to pick one single thing that helped streamline our lockdown experience, careful preparation and planning are probably at the top of the list. In the interest of minimising your potential exposure to the virus and the anxiety that goes along with leaving your home, you won't be surprised how much better you'll feel by reducing your time at the shops.
Some tips that might help:
Keep an updated shopping list as you use up food, toiletries and any other items in your house.
For common household items such as bread, milk, coffee pods, batteries, and shampoo, try to keep one in reserve so you can shop for things just before you run out. This will help you avoid impulse and emergency shopping.
Plan out your meals for the week in advance so you know exactly what you need to shop for when you go out. A myDNA Personalised Nutrition & Fitness test can help you with both daily meal plans and shopping lists for the items you'll need.
If you get the chance, try to shop at non-peak hours to reduce the number of people you could encounter.
If you're in Victoria, only one family member can go out shopping each day. Nonetheless, even if you live elsewhere, it's a good idea to nominate one person in your household to do the shopping and run errands. It doesn't take a contact tracer to know that the fewer people who leave, the fewer chances there are of bringing the virus (or other germs) back.
If you need to shop at multiple locations, try to make 1 round trip to avoid multiple trips. Although it should be noted that if you're going out to get tested for COVID, don't go shopping before or afterwards.
Be sure to shop smart, not scared. When the first outbreak happened, people quickly started snapping up supplies wherever possible – often far more than they needed. Hoarding supplies only increases the likelihood of wastage as things expire and will make it more difficult for everyone else to also get what they need. It also causes unnecessary panic which leads to more hoarding!
Make effective use of the technology at your fingertips
While isolation is great for "flattening the curve" and slowing the number of infections, it can have significant mental health impacts. A Monash University study showed that Australians are experience elevated levels of depression, stress and anxiety during quarantine, with about 30% experiencing moderate to high levels.
To reduce the potential spread of the virus, it's important that you don't have gatherings or go out and get together with family members and work from home if you can. Even though many of us are suffering from Zoom call fatigue, video calling is still one of the better ways to suppress the loneliness of isolation and keep up with our friends, relatives and workmates.
Why not catch up with a family member over a video call?
You could enjoy some social drinks with friends using a teleconferencing platform such as Zoom, Skype, or Discord.
We know that constant stream of video calling and zoom meetings can be exhausting. Try to focus on connecting with people who make you feel good about yourself. If you can avoid calls that may be stressful or frustrating. See if you can replace your meetings with emails or text conversations rather than video calling.
If you or a family member are high-risk for coronavirus symptoms and would prefer not to go out to shop, many delivery services exist where you can order food and groceries using your smartphone.
Online games, especially turn based games like online scrabble or chess, are a great way to both pass some time and keep up with friends and family.
Especially for people already at risk of mental illness, the pandemic can prove to be a challenge. Your mental health is just as important as your physical health, so make sure you're looking after yourself during these difficult times.
Keep yourself and others safe
It's extremely important during this global pandemic to do the most we can to ensure we stop the spread. Even if you're not immunocompromised or otherwise considered at-risk for COVID-19, you must follow the guidelines to help protect others. The World Health Organisation (WHO) has a frequently-updated list of advice and precautions for the general public which include measures such as:
Regularly washing your hands with an alcohol-based rub or soap and water.
Social-distancing: keep at least 1.5 metres apart from other people wherever possible.
Avoid touching your mouth, nose and face.
Stay home if you are showing any symptoms of coronavirus, even if they are minor.
Lastly, be sure to follow government direction if you're required to wear a mask. While the research and evidence around the usefulness of masks is still evolving, it's probably still better to be safe than sorry at this point. To some, stricter mask guidelines may seem like a step too far. But if it helps to reduce one of your neighbours' anxiety about the pandemic while out walking the dog, then it's already had a positive impact on the community. If it helps stop the spread of the virus on top of that, even better!
The WHO has great information on how to make sure you're wearing your mask safely and correctly. Make sure that you:
Cover your nose, mouth and chin with the mask.
Avoid touching the mask.
Clean your hands before and after removing the mask.
Remove the mask via the straps.
Don't remove your mask if other people are within 1 metre of you.
Wash your mask thoroughly with soap and water if it is reusable.
Follow government guidelines
It may not seem appealing to be stuck back in lockdown, the measures being put in place are essential for slowing the spread of the virus and flattening the curve – and the stats back this up. A June study found that self-isolation with household quarantine and contact tracing, like what is in place in Melbourne, reduced the spread of the virus by 64%. So be sure to stay home where possible and only go out for essential reasons.
We hope this helps make your lockdown experience as smooth as possible. If you're looking for an easy way to stay on top of your health during this period, the myDNA Nutrition & Fitness Kit has everything you need.
Got any more lockdown tips? How well did you survive the first lockdown? Feel free to reach out on our social media if you have stories or tips to share:
If you're struggling during lockdown, feeling alone or need someone to talk to, there are services available to help you through this time.
Beyond Blue – 1800 512 348 and Lifeline – 13 11 14 are both great and operate 24/7.