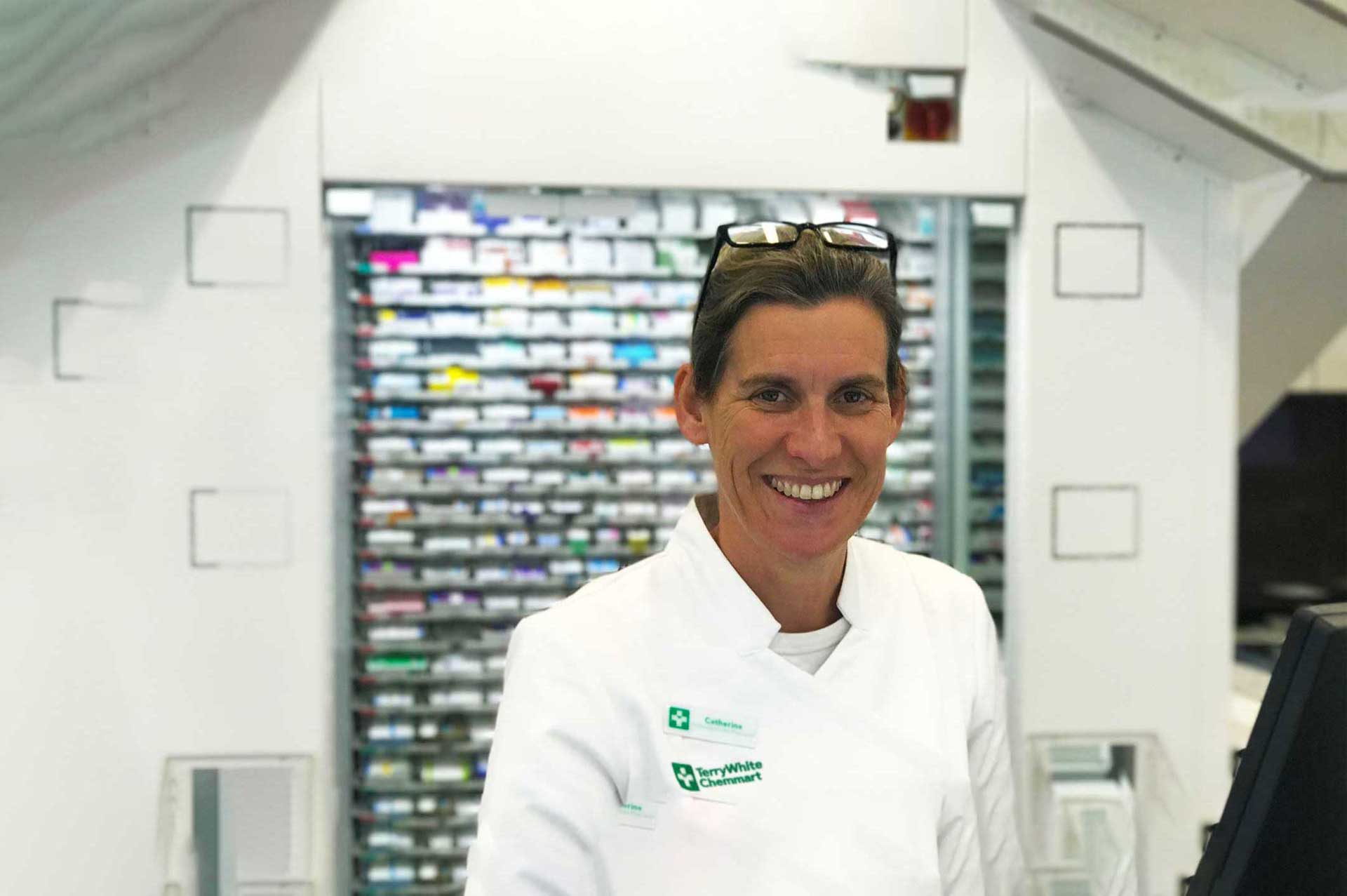 Located in the middle of the trendy Glenferrie Road, Professional Care Pharmacist Catherine Cumming at Hawthorns' TerryWhite Chemmart has over 20 years experience encouraging her local community to look after their health and wellbeing, and also has a special interest in children's health and skin. We asked her some simple questions to find out more about her and how her pharmacy serves her local community.
For those who think of pharmacy as just a place to go to fill out a prescription, what else do you think we might be surprised to find out happens in your pharmacy?
People may not be aware that we offer a range of my DNA tests, a comprehensive Weight loss program and also allied health clinics such as remedial massage, hearing clinics and a dietitian.
Have you seen any changes in behaviour, with people looking proactively to increase wellness, rather than only treating illness?
People are definitely more in tune with the concept of "wellness" and are often looking for a combination of western and also traditional medicine and also being more interested in prevention. Our new TerryWhite Chemmart branding , Alive and Well speaks to this.
What do you think is the secret to building relationships that keep patients/ customers loyal to your pharmacy?
We make sure all our staff are well trained across all our products and services. We also have a pharmacist on the floor and a focus on delivering prompt, comprehensive health solutions at good value.
How is your pharmacy involved with the local community around you?
We have run information evenings for the local community partnering with our neighbouring medical centre. We have a close relationships with local schools. We support local charities including Glenferrie Rotary and The Cancer Council.
What aspects of your job do you enjoy most?
I definitely enjoying the face to face relationship with customers and helping them improve their health and wellbeing.
If you hadn't done pharmacy, what other career would you have liked to follow?
I always wanted to be a pharmacist from when I started working as a Pharmacy Assistant during my senior school years. If I hadn't done Pharmacy I imagine I would have gone into another allied health related area like physiotherapy.
TerryWhite Chemmart Hawthorn
Address
Terrywhite Chemmart Hawthorn
736 Glenferrie Road,
Hawthorn
VIC 3122
Contact
(03) 9818 1313
www.terrywhitechemmart.com.au
Terrywhite Chemmart Pharmacy Facebook page
Hours*
Monday – Friday: 8am to 9pm
Saturday: 8am to 6pm
Sunday: 9am to 5pm
*Accurate at the time of this post