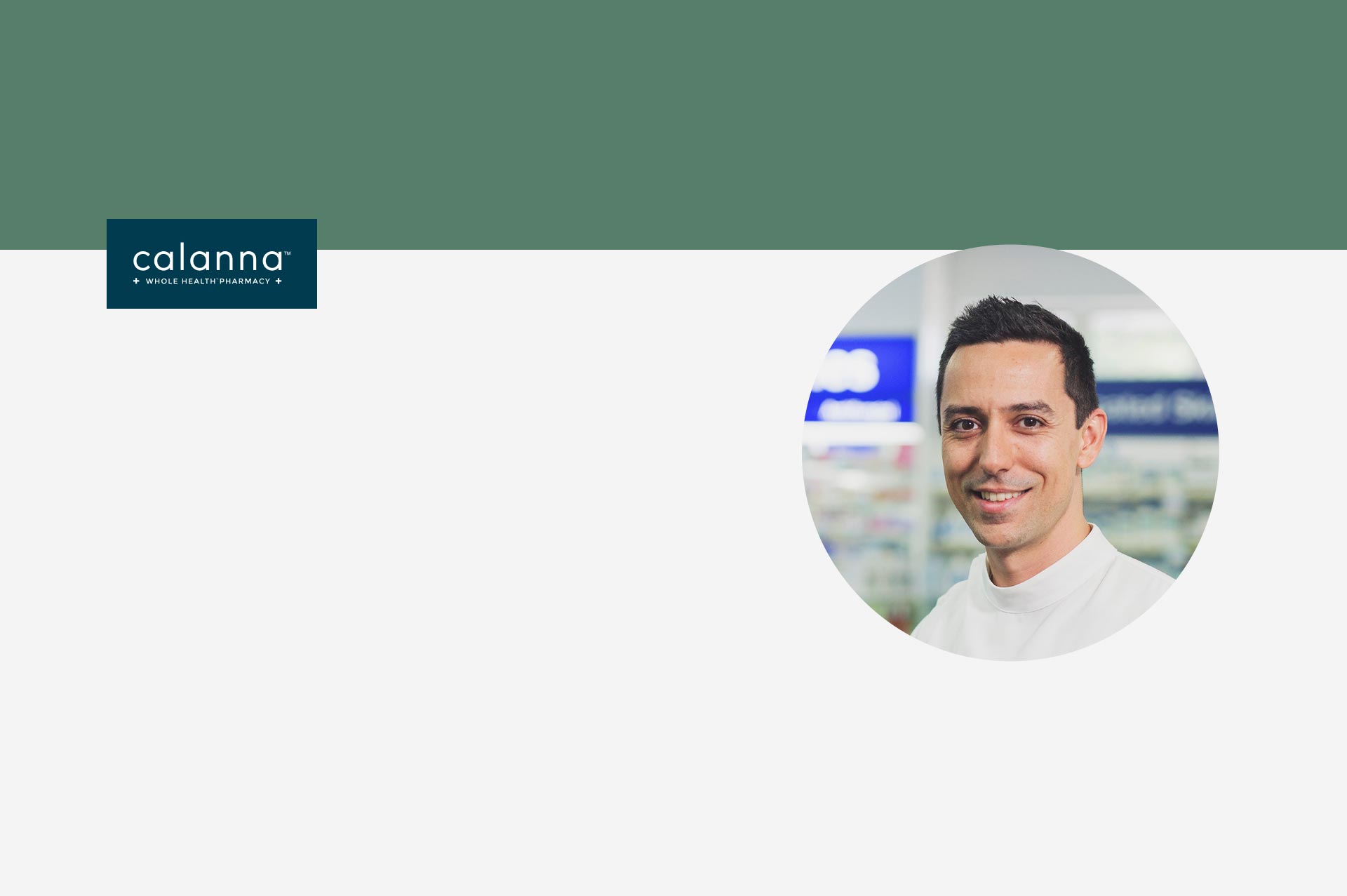 Established by Mario Calanna in Cairns in 1976, Calanna has grown into the largest family owned whole health pharmacy group in Northern Australia. Now operating 10 stores across North Queensland and one on the Gold Coast, they have delivered a slightly different health solutions model in their communities for decades. Matthew is a member of the Australian College of Pharmacy and is considered an emerging leader in the Cairns community. We asked Matthew a few questions to hear how he helps his customers.
For those who think of pharmacy as just a place to go to fill out a prescription, what else do you think we might be surprised to find out happens in your pharmacy?
We specialise in many services for our community including:
Packing your medications into weekly dosage packs to take the worry out of taking the right medicine at the right dose and at the right time,
providing access to Naturopaths in-store,
making medicines specific to you in our specialized compounding laboratory,
in-store medication reviews to check your medicines, side effects and interactions,
flu vaccination services,
a herbal dispensary,
a sleep clinic to test for apnea with CPAP equipment,
Pharmacists who are specialists in medicine which provide information to you, your GP or health practitioner on dosage, side effects, and interactions, and
Maintain yearly taxation information for all medicine you have had dispensed with us.
Have you seen any changes in behaviour, with people looking proactively to increase wellness, rather than only treating illness?
Customers want to know more about how their body works specifically and what is best for them as individuals. They are looking for ways to stay healthier for longer and prevent getting sick (or slow down the progression of illness). We are looking at a persons whole health and have branded ourselves accordingly – looking at prevention through diet, lifestyle and supplementation through advice and support of qualified practitioners like pharmacists, nurses and naturopaths.
We have also seen growth in the vitamin, supplement, and health food market.
What do you think is the secret to building relationships that keep patients/ customers loyal to your pharmacy?
We feel being authentic and genuine with people is built by being honest and ethical. We listen to our customers, and give them a solution not just a response.
Providing reliable, simple and easy to understand information and offering advice to people so they can make informed decisions is key to Calanna Pharmacy.
How is your pharmacy involved with the local community around you?
In a big way!
We sponsor local sporting organisation across many codes and levels including basketball, rugby league, Rugby union, AFL, Netball, and Soccer.
We also provide sponsorship to junior debating and speaking competition across approximately thirty public and private primary and secondary schools in far North Queensland which encourages students from grade 3 – 10 to be involved in public speaking and debating.
We're involved with Rotary Australia and other community organisations such as Meals on Wheels. And also the primary health network and the FNQ Allied Health Association.
What aspects of your job do you enjoy most?
Helping people by providing genuine advice and support to their needs, interacting with customers and the community, and working with a team that enjoys what they do and are passionate about helping people and their health.
If you hadn't done pharmacy, what other career would you have liked to follow?
I would've been a lawyer.
Calanna Wholehealth Pharmacy
Address
Calanna Wholehealth Pharmacy
600 Bruce Highway,
Woree
QLD 4868
Contact
(07) 4033 2525
www.calannapharmacy.com.au
Calanna Wholehealth Pharmacy Facebook page
Hours*
Open 7 Days: 8am to 8pm including public holidays.
Closed Good Friday and Christmas Day.
*Accurate at the time of this post