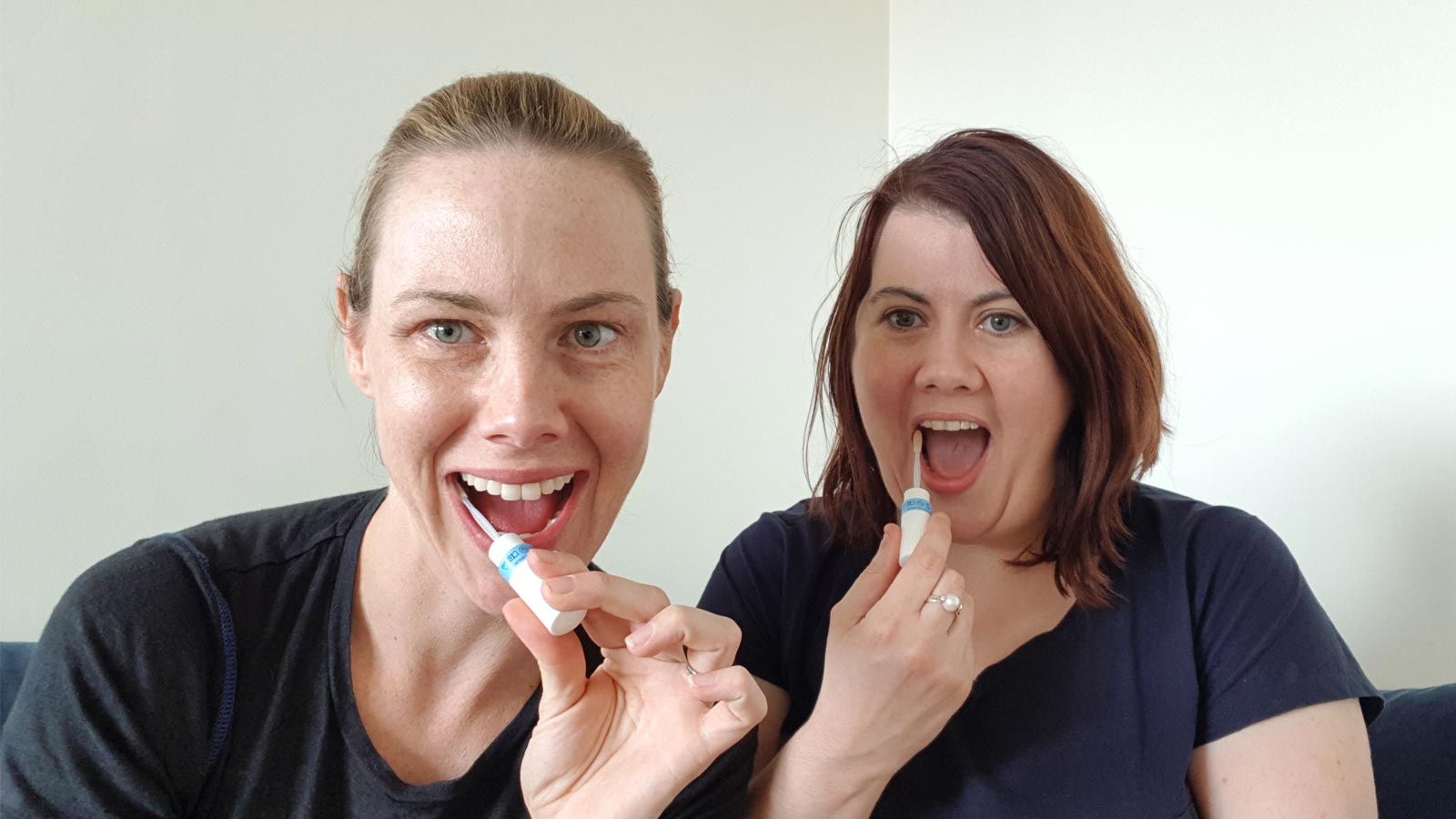 Two sisters, close in every way but body size, recently took a myDNA diet and fitness test to get answers to some heavy questions. Is there a genetic reason Rachael easily gains weight and Vanessa doesn't? What can Rachael do to be healthier and happier with the way she looks?
They wondered if the results would change the way they felt about themselves – or fuel a sibling rivalry. They didn't have to wait long to find out.
The results are in
It began like a game of snap. The first three genes listed in their reports – the ones that affect weight and appetite, body size and weight regain, and fat storage – were identical. It's only natural that two sisters would have many of the same gene variants; they do share parents. But that doesn't explain why they look so different…
Perhaps it's their ADIPOQ gene. This fat burner is where their genetic results diverge. While Vanessa's variant is less favourable; Rachael's is the least favourable.
Rachael's ADIPOQ gene type produces reduced levels of the fat-burning hormone adiponectin. This means she has double the chance of being obese, and excess weight may cause her adiponectin levels to drop further. She's also more likely to have a higher BMI and carry weight around the middle.
"That's OK," says Rachael, as she takes in that information. "It explains a lot; it's really just another reason to lose some weight."
Different exercise profiles
It was the in the fitness report that the difference between the sisters became more evident.
Rachael's fitness report shows she's an all-rounder, evenly balanced between power and endurance. But Rachael's genetic profile shows she has a greater risk of soft tissue injury during exercise – something she'd already learned the hard way. "I tore ligaments a few years ago and it took a long time to heal," she says.
"When I exercised after my injury, I'd still get twinges of pain; get nervous and stop," she says. "I was too timid to do the sports like running or beach volleyball that I used to do and got out of the habit."
Vanessa's fitness results show she's all power with little endurance, which make sense to her: "It's true, I've never been able to run long distances – but I've always built muscle easily!"
Easy answers
While your DNA influences your appetite, how fast you burn calories, or your body fat distribution; it's what you eat and what you do – food vs exercise – that primarily determines weight.
The sisters knew this but seemed to be looking for reassurance, as Rachael explains: "I wasn't surprised by my results. Eight years ago, I was really skinny, so I suspected my weight gain was more because of my lifestyle than my DNA, but it was really helpful to make sure."
With the knowledge gained from their diet and fitness reports, the women started to examine their lifestyles and health and fitness choices, now understanding what would work best for their unique body and how it was likely to respond.
Step up
On top of her injury, Rachael has a job which means driving an hour each way and sitting at a desk all day. There's a supermarket downstairs, so while she brings in a salad or buys sushi for lunch, she admits it's easy to grab a treat. Clocking up an average of 3,000 daily steps isn't going to balance that out.
While Vanessa has gained a couple of kilos since having kids, she's exercising every day without even thinking about it. Her twice-daily sprint to school, kinder or weekend sports clocks up 15,000+ steps with very little effort.
Put yourself first
As a mum with two young kids, Vanessa cooks balanced meals mainly for the kids' benefit. Meanwhile, Rachael is single. She rustles up light, colourful meals when she's cooking for friends and family, but admits it's tempting to go for big, quick and easy, like pasta, when eating solo.
What next?
Armed with their results, the sisters are making changes. Vanessa's joined ballet and yoga classes to use her natural athletic power and work on her flexibility.
Rachael has started ordering some healthy home deliveries to help reduce her portion sizes and free-up time to exercise. She's also roped in a friend to exercise with. The report has helped her feel more empowered to take control of her health and wellbeing. It's a huge step in the right direction, and hopefully weight loss will follow.
Most importantly, the myDNA experience has helped the sisters to speak honestly to each other about living a healthier life.