Available at

Please note myDNA Australia do not sell or distribute direct to Indonesia – please contact Inofit for all questions and orders
Wake up and smell the coffee
If you don't feel rested when you wake up in the morning, it's time to wake up and smell the coffee. Discover how your body processes your cup of coffee and how you can shake up your caffeine rituals to feel your best.
We analyse four genes for your insights
We clearly explain how your body responds to caffeine so you can establish better habits
Everything is available 24/7 on your secure online portal
Get a deeper understanding of yourself and optimise your nutrition, fitness and caffeine habits with myDNA Nutrition & Fitness.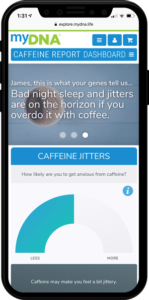 myDNA will interpret and provide a personalised report for the genetic myDNA test requested by you or your healthcare professional only. Your reports and genetic data are your property. Any results generated remain strictly confidential and will not be shared with any third parties without your consent. Privacy and data security protocols are fundamental to the myDNA technology platform.
*Note all reports and online portal information will be in English