Improve

Your Health & Fitness with our DNA-Powered Meals and Workouts
Double up and save 30%
Gyms are open, group classes are running, and local sporting teams have started training.
But what are you doing to kick start your routines?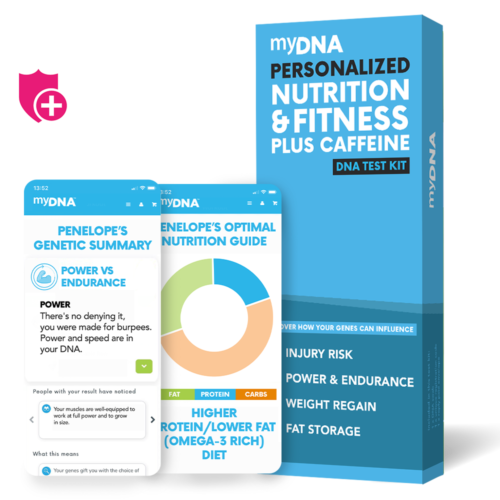 It can be so disheartening to look down at the scales and see no change – or worst still, the dial going upwards. We understand that deflating feeling of trying everything and meanwhile, we see lean yummy mummies in magazines, friends with toned tummies and bulging muscles and Insta stars with all year-round beach bods. We think, if it's worked for them, then why not for me?! Read More
Gain More Knowledge about Your Body and Lose Weight with Your DNA
At myDNA, we have created a custom weight loss DNA test that takes you as its case study. Instead of having to go through hundreds of yo-yo diets, gym routines and fitness regimes we do your genetic fitness test to use your genetics to personalise your very own DNA diet plan. You'll experience optimisation in your overall wellbeing and embark on a path to consistently maintain your desired weight.
Our Wondrous Weight Management DNA Test is Fast, Simple and Life Changing
Why lose weight? Perhaps, there's a history of heart disease or diabetes in your family. Maybe, it's affecting your mental health. Or, you just really want to fit in those jeans that you've hidden in the back of the wardrobe. There's no reason too big or small to lose weight if you believe that it's something that'll improve your health and make you feel better.
DNA weight loss is effective because it zooms in on the functions of your genes to work out exactly what you need to do to shed weight. It establishes your genes' abilities and limitations, and from there our team of reputable nutritionists and DNA fitness coaches can put together the best possible plan for you.
We've packed everything you need into our weight management DNA test kit, so that you'll be able to start a fruitful yet also, sustainable and realistic process.
You'll not only save time finding the right diet for you, but the whole procedure is quick and it couldn't be easier to get started! A swab of your cheek and some details about your lifestyle and goals are all that's required.
Why Our Weight Loss DNA Kit is Worth Your While
We get that every time you invest in a weight loss program, it means putting yourself out there again and dedicating hours to trying something new. That's why we've based our entire ideology, processes, recipes and fitness regimes around evidence-based science, factual information and done so with an evidence rating system.
Since our foundation in 2007, we've watched how providing people with their DNA profiles and personalized nutrition plans has helped to transform their lives. Real people just like us, just like you, who want to better understand their unique selves. Don't waste any more time floundering, second-guessing and getting left in the dark.
Read our testimonials, delve into our website and ask us anything about our DNA weight loss methodology. We'll be glad to give you all the information, facts and details you need. Join us to learn more about yourself than ever before, we're right here, waiting to help you lose weight, be healthy and most importantly, happy.
Personalized Plans to Achieve your Goals
We leverage the secrets of your DNA to remove the guesswork and easily help you achieve your goals.
Dozens of Recipes to help you maintain or lose weight.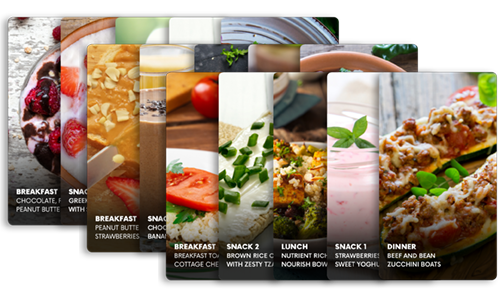 Every calorie and macronutrient automatically calculated to help you achieve your goals more quickly.
Recipes to cover breakfast, lunch and dinner, and everything in between.
Ingredients list to give you the flexibility of making your own recipes, while sticking to your ideal daily calorie and macronutrient intake.
Eight-week Fitness Plan to build strength, improve cardio or get lean.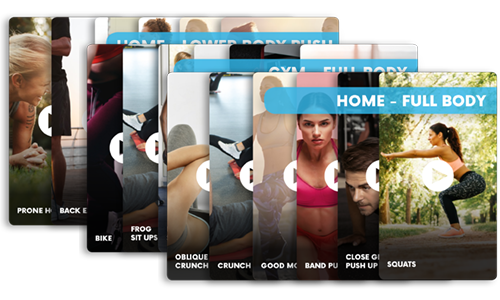 Hundreds of workouts, with the flexibility to choose home or gym-based exercises.
Clear instructions complete with videos, so you know exactly what to do.
Exercises constructed with super-sets, which build in intensity as you progress through your plan.
"My results after 8 weeks have blown out my expectations. I've lost a heap of body fat and reduced my body fat percentage. I could not be happier. I'm definitely going to do another 8 weeks."
How can 14 genes
supercharge

your nutrition and fitness plans?

Download our free guide and signup for all the latest news and events from myDNA.
All plans created by our clinical experts
The Insights and Recommendations found in each myDNA plan are delivered through our clinical team's proprietary algorithms, combining your genetic insights with years of evidence from scientific literature. Privacy
Your DNA sample and data remain your property, are stored on secure encrypted services, can be destroyed anytime at your request, and will never be shared without your consent. GENETIC RIGHTS
Our analysis is limited to the DNA markers we report on. Your results won't include diseases, can't be used to identify you, nor will they have any bearing towards insurance policies.