Improve

Your Health & Fitness with our DNA-Powered Meals and Workouts
Double up and save 30%
Gyms are open, group classes are running, and local sporting teams have started training.
But what are you doing to kick start your routines?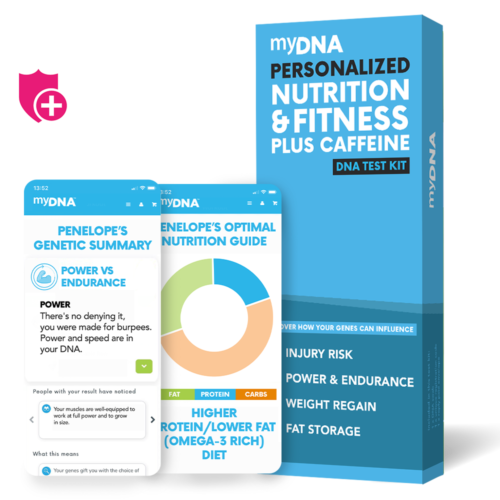 Genetic Nutrition Testing
Maybe you want to lose weight, perhaps build muscle or simply just feel better. Crazy diets, juicing, surviving off coffee and eating poorly can leave us with low energy, lifeless and far away from where we want to be. Some people lack enthusiasm for food and exercise whereas others have tonnes of motivation, but have been pointed in the wrong direction. We can help no matter what your lifestyle is or what your goals are. myDNA will empower you with the knowledge to help you to make the most out of what you've been born with. Read More
Easy Genetic Testing for Personalized Nutrition Plans
To break it down, we take a look at your genes, understand their natural functions and use this information to draw up custom action plans, all just for you. But we don't just hand you our findings, we also take into consideration your goals and lifestyle to accurately share your next steps in the form of DNA based diet and exercises tailored only for you.
It's a fact that no two people are the same so what is nutritionally amazing for one person may be only mediocre for another. We don't just put on weight as a result of one too many doughnuts either. It's also all to do with how our bodies store fat, manage appetite and arrange calorie intake. We'll help you to really understand what all this means and exactly what you can do about it.
You'll see how mind-blowing your body is and we won't leave you in the dark with its shortcomings, we'll help you overcome them.
Genetic testing for nutrition is as much about learning more about yourself as it is about the right things to eat and ways to exercise. So you can make informed choices not just for the next few weeks but actually, for the rest of your life. Your lifestyle may take different shapes and forms over the years but you'll always have your genetics to come back to.
Goal-Orientated Genetic Nutrition Testing For Your Better Future
We're an Australian company but we have networks and partnerships all around the world. We're connected to fellow experts and look to peer-reviewed research to drive us forward. We use an evidence rating scale because we're constantly looking at the fine details and want to create the best nutrition genetic testing possible. We're passionate pursuers of knowledge in nutrigenomics and we can't wait to help more people tangibly reach their goals through our genetic fitness test.
Science is constantly developing but it shouldn't just be reserved for academics or governments. We believe everyday people who want to improve themselves deserve what the most cutting edge science has to offer. That's why we have taken our concept and made it truly user friendly. And you have access to all your results, reports, recipes, workouts, tips and more 24/7.
We also pride ourselves on customer service so should you have any questions about our DNA health testing kit and weight loss DNA kit or worries please talk to us. Contact us or you can also connect with us on social media, where you can check out reviews and all the latest news.
Personalized Plans to Achieve your Goals
We leverage the secrets of your DNA to remove the guesswork and easily help you achieve your goals.
Dozens of Recipes to help you maintain or lose weight.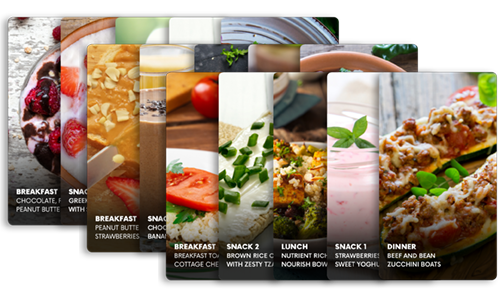 Every calorie and macronutrient automatically calculated to help you achieve your goals more quickly.
Recipes to cover breakfast, lunch and dinner, and everything in between.
Ingredients list to give you the flexibility of making your own recipes, while sticking to your ideal daily calorie and macronutrient intake.
Eight-week Fitness Plan to build strength, improve cardio or get lean.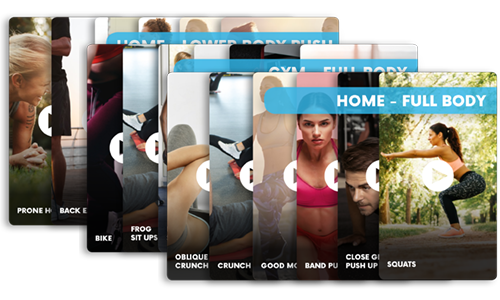 Hundreds of workouts, with the flexibility to choose home or gym-based exercises.
Clear instructions complete with videos, so you know exactly what to do.
Exercises constructed with super-sets, which build in intensity as you progress through your plan.
"My results after 8 weeks have blown out my expectations. I've lost a heap of body fat and reduced my body fat percentage. I could not be happier. I'm definitely going to do another 8 weeks."
How can 14 genes
supercharge

your nutrition and fitness plans?

Download our free guide and signup for all the latest news and events from myDNA.
All plans created by our clinical experts
The Insights and Recommendations found in each myDNA plan are delivered through our clinical team's proprietary algorithms, combining your genetic insights with years of evidence from scientific literature. Privacy
Your DNA sample and data remain your property, are stored on secure encrypted services, can be destroyed anytime at your request, and will never be shared without your consent. GENETIC RIGHTS
Our analysis is limited to the DNA markers we report on. Your results won't include diseases, can't be used to identify you, nor will they have any bearing towards insurance policies.